A staggering 55 percent of educators are thinking about leaving the profession sooner than they planned, according to a National Education Association (NEA) poll released Tuesday. This represents a a significant increase of 37 percent in August and true for educators regardless of age or years of study, driving buses, or serving food to students.
However, the poll showed a disproportionate percentage Black (62%) and Hispanic / Hispanic (59%) teachers, who are already underrepresented in the teaching profession, looked to the exit.
Eighty-six percent members say since the pandemic in 2020, they have seen more educators leaving the profession or retiring early.
Exhausted and annoyed, classroom teachers and other school staff are under unprecedented levels of stress, exacerbated by the recent severe staff shortage affecting the school system across the country.
This deficit is not new, says NEA President Becky Pringle, but the pandemic has worsened crisis, and students pay the price.
"This prevents educators from giving their students the attention they need to each other. It forces them to give up planning classes and lunch time to replace colleagues who dropped out because of COVID," Pringle explains. "And it prevents students from getting the mental health support they need."
"This is a crisis of five signals," she continued. "If we are serious about ensuring that every child needs developmental support, our elected leaders across the country must address this crisis now."
Survival mode
According to the U.S. Bureau of Labor Statistics (BLS), about 10.6 million educators worked in public education in January 2020; today there are only 10.0 million, a net loss of about 600,000.
BLS survey on vacancies and labor turnover showed that the ratio of employees to vacancies in the education sector has reached new lows as the 2021-22 school year began. It currently stands at 0.59 hires for each vacancy, down significantly from 1.54 in 2010 and 1.06 in 2016.
The existing staff shortage deepened during the pandemic.
According to a NAA survey, volThree-quarters of members said they had to replace colleagues or perform other duties because of this shortcoming. In addition, 80 percent report that vacancies have led to more work responsibilities for remaining teachers.
Sabia Sheikh, a math teacher at Everett High School in Washington, D.C., says she regularly starts the morning by reading emails from school officials asking to fill in missing colleagues.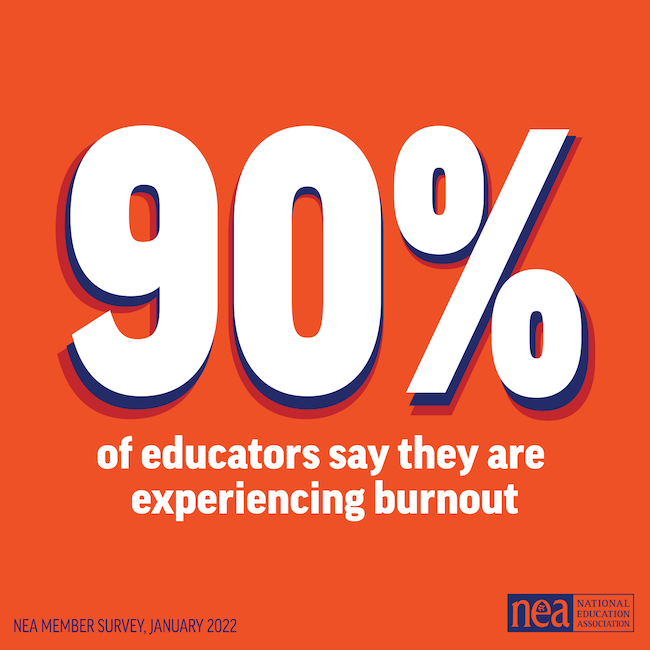 "I always want to be close to my colleagues," she says. "But it is emotionally and mentally exhausting …We have been in survival mode since last year. We struggle to survive a year, a month, a week – for some of us just a day. The pressure can be huge. "
At Tennessee Moore's school in Southfield, Michigan, a shortage of replacement teachers along with increased retirement and job losses have pushed more educators to their limits.
"It was a big problem," says Moore, an 8th-grade science teacher. "It is a noble profession, but we are underestimated and paid.
What will be needed
Although the ongoing consequences of the pandemic have been severe, the growing discontent of many educators is not new. The main factors undermine the stability of the profession, at least after the economic crisis of 2009-2010 and the staggering reduction in the education budget that followed.
The burnout and demoralization that many educators have experienced over the years has increased since 2020.
According to a NEA poll, 91 percent say pandemic stress is a serious problem for educators 90 percent of participants say that burnout is a serious problem, and 67 percent – a very serious one.
When asked about possible ways to solve the problem, respondents pointed to higher salaries, providing additional mental support to students, hiring more teachers, hiring more support staff and less work with documents.
"Payment is a big factor, but we also need several models of support for teachers." says the Sheikh, "including time for planning, collaborating with colleagues, building relationships with our students. "
The survey also asked respondents about the ongoing impact of COVID on their schools. Even against the backdrop of Omicron's growth, more than a third of educators say the mask and mitigation policy has been relaxed since the start of the 2021-22 school year. Insufficient ventilation remains a major problem. Only 38 percent of educators said they have improved ventilation in their schools, and only 28 percent believe their school's ventilation system provides them with adequate protection.